TRENDnet TK 217I - KVM / audioschakelaar - 2 poorten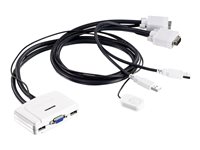 Zoom
€ 32,85
excl. BTW € 27,15
Toevoegen aan winkelwagen
Artikelnummer
TK-217i
Levertijd

Tijdelijk uitverkocht, bestelbaar



Verzendkosten
Kiala € 4,95 / Bpost € 7,95
Gratis verzending vanaf € 250,00
The 2-port USB KVM switch, model TK-217I, allows you to control 2 PC and/or Mac computers with one set of console controls. Manage laptops or desktops that have VGA and USB ports at the touch of a button, with a set of USB keyboard, USB mouse, and VGA monitor console controls.
No driver installation required, simply plug in the devices to control 2 computers. A convenient toggle switch with a 1.5 m extension cable can be placed in the most ergonomic location on your workstation.
View high quality VGA resolution at up to 2048 x 1536 pixels. Built-in 0.9 m combination cables include all the necessary USB and VGA connectors for each respective computer. This KVM switch does not need to be plugged into an outlet - it is powered by the connected computers.
TRENDnet TK 217I - KVM / audioschakelaar - 2 poorten




8.9 cm x 6.4 cm x 2.5 cm




2 jaar garantie




KVM / audioschakelaar - 2 poorten




315 g




Microsoft Windows Server 2003, Microsoft Windows 98/2000/XP/Vista/7/8




Met USB, tuimelschakelaar




1 lokale gebruiker




2 x KVM / audio




KVM



Algemeen

1920 x 1080 @ 60 Hz




KVM / audioschakelaar - 2 poorten




Status




Met USB, tuimelschakelaar




Desktop




LED-paneel




1 lokale gebruiker




KVM




USB




2 x KVM / audio



Uitbreiding / Aansluiting

2 x VGA 2 x USB 2.0 2 x audio mini-jack 2 x microfooningang mini-jack 2 x toetsenbord (USB) / muis (USB) Type A 1 x microfoon mini-jack 1 x audio mini-jack 1 x VGA



Diversen

FCC, RoHS, WEEE




2 x kabel voor toetsenbord / muis / video / audio - 80 cm



Garantie van de fabrikant

Beperkte garantie - 2 jaar



Software / Systeemvereisten

Microsoft Windows Server 2003, Microsoft Windows 98/2000/XP/Vista/7/8




Stuurprogramma's & hulpprogramma's



Afmetingen & gewicht

8.9 cm




6.4 cm




2.5 cm




315 g



Omgevingsparameters

0 °C




40 °C




0 - 90% (niet condenserend)




-20 °C




60 °C